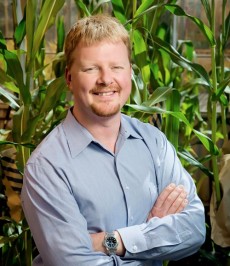 Personal Website
Conduct Market Analysis
Engineer Water-Efficiency Genes
Generate Sorghum Hybrids
Improve Crop Canopy
Reduce Water Loss
Andrew Leakey
| | University of Illinois
WEST Co-Director Andrew Leakey researches plant responses in natural and agricultural ecosystems to global environmental change. Specifically, he is interested in how to adapt of food and fuel crops to these changes and ensure the sustainability of biofuel feedstocks. Andrew oversees the entire WEST project and its objectives. He is specifically managing the evaluation of stomatal densities and contributing to the evaluations of biomass production; canopy temperature and soil water content; as well as leaf photosynthetic rate and stomatal conductance.
Andrew earned his bachelor's degree in plant sciences and doctorate in tropical tree physiology and ecology from the University of Sheffield, United Kingdom. He went on to be a Fulbright Scholar at the University of Illinois at Urbana-Champaign. He continued on at Illinois as a postdoctoral researcher in the Department of Plant Biology and then as a Research Fellow at the Carl R. Woese Institute for Genomic Biology before joining the faculty as an assistant professor. Today he is an associate professor at Illinois.
In addition to WEST, Andrew is a part of several other research projects. One explores plant responses to higher concentrations of carbon dioxide and ozone while another evaluates responses of model C4 grass Setaria viridis to drought and density. His research has appeared in many notable publications, including Science, Plant Physiology, and Plant, Cell & Environment. He has been acknowledged with several fellowships and awards, including the Arnold O. Beckman Research Award.